Account Creation
First, log in to the OARC portal Next, click on the Jabber Account link under Settings on the left side. If you need assistance, contact the OARC Admin. The user ID is the same as your OARC username which can be seen when editting your own information. You can create a password for your jabber account by filling-in the dialog box and saving it. The account creation process is automated but can take up to 2 hours to update the roster lists, so please be patient.
Logging In
OARC members have an account on the OARC secure, private and encrypted jabber server. To log in, enter your OARC username and specify dns-oarc.net for the domain. For example: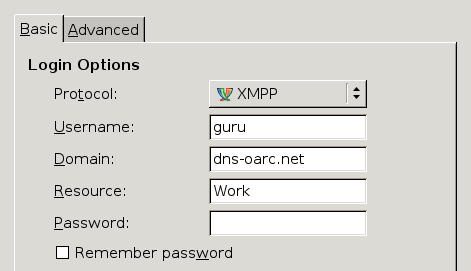 Your jabber password should be different than your OARC portal password. We recommend using different passwords because many jabber clients like to store account passwords in clear-text on your computer. You can change your jabber password at any time by using the steps above.  Note that we're using SRV records for the jabber server. Some clients don't entirely support SRV records. In those cases you may need to specify the jabber server address separately as /jabber.dns-oarc.net/.
Chatting with other Members
Once logged in, your jabber client should display a roster of other OARC members (this can vary with some clients, and make take time to populate):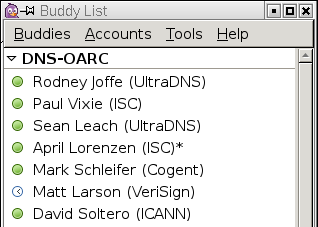 Click on any user to open a chat with her or him.
Jabber Rooms
OARC also maintains a number of jabber rooms. Most are private, but the dns-operations room is open to the public. See OARC's dns-operations jabber room page for more information.